SECOND LIFE


www.secondlife.com



What is Second LIfe?


Second Life (abreviated as SL) is a virtual world that has been launched in 2003 by Linden Lab - California. This 3D environment has been totally created by its residents. They interact in different scenarios like: Cafés, Restaurants, Art Galleries, Cinema Studios, Airports, Hotels, Universities, Scientific Centres, main Capitals, etc, engaged in rich sensory activities for further reflections on the best use of Second Life according to their needs and interests.

How to enter Second Life?


1) downloading the programme from www.secondlife.com at no cost.
2) building an 'avatar' , a 3D personality with a body, movements, etc : https://join.secondlife.com/
3) contacting : Alicia Barbitta: alicia.barbitta@focus.edu.uy, or sending an in-world message inside
Second Life to: Wonderalica Alturas, to guide you into a virtual experience.


Who makes use of Second LIfe?


Besides its residents, big enterprises are present in Second LIfe promoting their activities, services or products, as:
IBM
PONTIAC
SUN MICROSISTEMS
CISCO SYSTEMS
DELL
REUTERS
ADIDAS
NIKE
HARVARD UNIVERSITY
MERCEDES BENZ
REEBOK
TOYOTA.....among others.



How is Second LIfe used in Distance Education?

Is one of the most flexible tools used to make students feel a realistic approach among participants in their distance training. The possibility to interact through 'voice' or 'chat' together with exploring Second LIfe applications in their Educational context, brings to the users a valuable resource to adopt.


Alicia Barbitta en Second LIfe is :

Wonderalica Alturas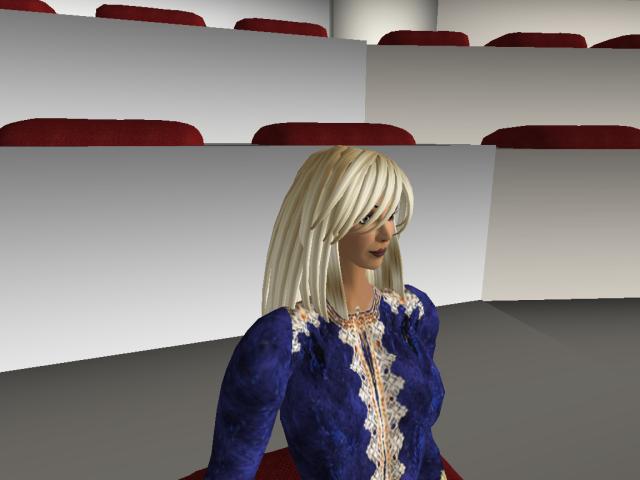 I
Introduced to Second LIfe through an Educational list- Webheads in Action - Alicia Barbitta, Head of Focus-Inglés Empresarial started Second LIfe in 2006. Since then she has devoted many hours to investigate the development
and benefits of Second LIfe inside English Language Learning.

Business English training inside Second Life is done in VIRTLANTIS, a virtual Island inside Second
LIfe dedicated to teach different languages. The 3D interaction among participants help being in touch with other users from
all over the world gathered by their main intererest: To learn the languge in the most practical and natural way
To be able to handle Second Life virtual tools appropriately, Wonderalica has taken specific training courses inside
Second LIfe , is a member of SLED, Second LIfe Educational list, takes part of SLexperiments wiki: , where the spirit of the educators is to bring the best to the student inside a virtual environment.
Wonderalica also attends weekly talks given inside Second Life which are Educational oriented, as well as attending Second Life conventions, Workshops and all events where Language training is the main objective.


Second Life moments since 2006
Click on the picture
Learning in a 3D Virtual World , according to Brandon Hall Research,
Immersive environments – such as virtual worlds and video games – have attracted attention as potential environments for work and learning. Forrester has predicted that, within five years, the 3-D Internet will be as important for work as the Web is today. Gartner has predicted that 80 percent of Internet users will be in a virtual world by 2011.
Second Life is the best known virtual world environment and has attracted a huge amount of interest from the learning community.